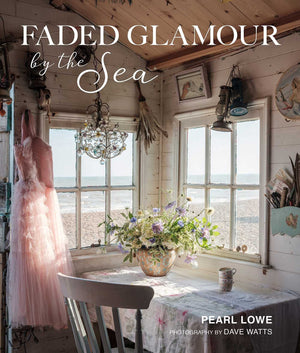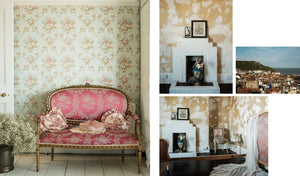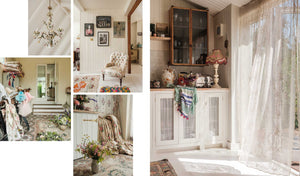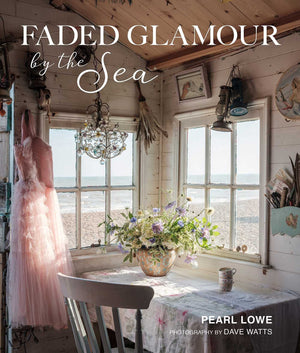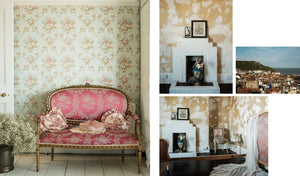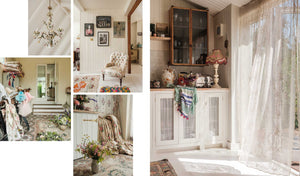 On Sale
Faded Glamour by the Sea
Available from 12 April 2022

A limited number of signed copies of Pearl's new book Faded Glamour by the Sea are available to order directly. If you'd like a personalised message please send an email to enquiries@pearllowe.co.uk before making your purchase.
Pearl's gloriously decadent yet perfectly lived-in decorating style was featured in her bestselling interiors book Faded Glamour. Now Pearl is taking us to the coast, and in Faded Glamour by the Sea we get the first glimpse of her new home – a beautiful renovation project that she and her husband, musician Danny Goffey, have created in East Sussex. Built in the 1940s for an artist whose shell sculptures are still dotted round the garden, the house and adjacent cabins have been lovingly restored by Pearl. 
The house may have been a life-long dream for the couple, who have always loved the solace of water, but it has only been just over a year in the making, thanks to the inspiration Pearl has drawn from many friends who live  in the area and also further afield. And so she takes us on a tour of their seaside homes. An award-winning music video director who not only created a home on the coast but also set up a bar there; an artist with a love of beach huts; an author who swapped London life for a clifftop house with his own writer's hut. Add to this the Malibu beachfront house of stylist Rachel Ashwell, the hippy-chic style of supermodel Helena Christensen's waterside house and the 'punk noir Victorian' vibe of the hotel created by friends from rock band The Libertines. In Faded Glamour by the Sea Pearl visits these properties, and as the owners tell their stories she explains how she found inspiration for this new chapter in her life.